Hope Lost in the Ocean's Ugliness
Isolated in an ocean of grey, none others present but the clear loose plastic that surrounds the abandon wooden boat. A wooden boat whose appearance looks like rusty, ancient handles bars from a forgotten bicycle. This immense amount of waste floating on a grime-filled body of water is motionless. His hope is trapped in the surroundings of multiple junk food wrappings and pieces of ivory paper. As youth lets the sadness from these grey waters touch his fingertips, youth is slowing losing all hope. A child rests at the front of his lonely, faded boat, viewing the poison that is being fed to this world known as Earth. A boy is at his edge, his climax, his tipping point of desiring a healthy home, a better life. A child with an inferior lifestyle attempting to paint his desired future in a pond instead is blurred by the unsanitary trash that lies beneath him. Eternal trash covers the gift of beauty of blue crystal seas like a darkness covering the gift of sight of a child. The sea of scraps is a variety of different shapes and sizes of plastic. Long, narrow, big, or small it does not matter its appearance because plastic is danger. This danger swims in a pond that was once a home to fishes, a delightful view to people, and a reflection of the cloudy light blue skies. It is now hiding under the toxic garbage we put there like the filth hidden underneath one's fingernails.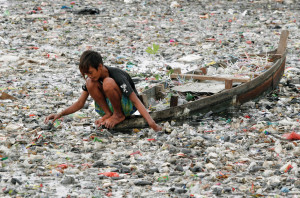 Analyzing this image repeatedly, I manage to see something new every single time. It gave me the opportunity to look at plastic at different angles. My understanding of the selected image was a vulnerable child in need, living in poverty. A child whose life is being buried underneath this an unsanitary wasteland. An unhealthy lifestyle created because of the lack of consideration in one's community leading to society to feel lost in hope for a clean environment to live in. This image portrays a pond of nothing but littering and fresh water being drowned by recyclable items. Items that have a place to be reused but instead fall into the oceans, ponds, lakes, and rivers.
My image ties into the theme of progression Garbology. In Garbology, chapter five presented Mary Crowley, a woman with a strong love for the ocean. She describes her feelings of disturbance when she sees the amount of plastic pieces found within the net that was pulled from the ocean.  Both Crowley and the boy in my image are caught in a bundle of trash, both trapped on a boat viewing the disaster that people brought to the water. Plastic and trash are the ocean's worst enemies, and seeing it within my image as well as reading about it in chapter five of Garbology helped me see the harm that plastic brings to animal's lives, people's health, the environment, and to our water systems. We continue to make the same mistakes, repeating the same impulsive actions without thinking about the consequences in our near future.